ADV
Okay, okay *ahem* i need to contain my excitement..
*deep breath*
Here goes.....
For this coming NYE, there's a BIG.. i mean H U G E event will be happening at Encorp Strand Red Carpet Avenue, Kota Damansara.. it is happening on new year's eve (31 December 2011) from 6:00 p.m. to 2:00 a.m.. jot down this IMPORTANT date on your BB, iphone, diary and etc..
Check the flyer out :-
There will be performances FOR SURE and the artists line up will be as per below :-
Joe Flizzow
Joe Flizzow is an award-winning Malaysian hip hop artist and businessman. He is one half of the internationally renowned Malaysian hip hop duo, Too Phat - the most successful hip hop act to ever emerge from Malaysia. He is also founder and CEO of Kartel Records.
Joe Flizzow started his career as one half of the groundbreaking duo Too Phat. With sales of over half a million records sold to date, the group's multi-platinum albums have won numerous awards locally as well as achieving recognition from MTV Asia and Channel V. International collaborations with artists from Singapore, Thailand, Philippines, Taiwan, Hong Kong, Indonesia, Australia, Sweden, Canada and United States have allowed for an all access pass on the global stage.
As an individual Joe Flizzow arguably the nicest Malaysian MC to ever grip a mic, is a talented writer, lyricist and producer. Forever pushing his boundaries and artistry into new areas of development; a pattern familiar since the late 90's, where he revolutionized the Malaysian underground Hip-Hip scene and forced the music industry to recognize it as a serious music genre.
After 10 years as a member of Too Phat, Joe Flizzow set out to begin carving a career as a solo artist in 2008 with the release of his debut solo album called President.
Mizz Nina
From hip hop MC to electro groove pop princess, Mizz Nina can certainly admit to living out her dreams. She might have taken on myriad personas in the span of her career, but her groove-hungry soul and love for an infectious beat have been a constant in most of them. Spurred on by a family that has always appreciated artistic expression, Mizz Nina dove headlong into the world of music and entertainment from the tender age of eight, and hasn't looked back since.
In 1997, she formed First Born Troopz with Fiquetional, with whom she would later cofound seminal Malaysian hip hop group Teh Tarik Crew (TTC) in 1999. It was with TTC that her musical career truly took off, with two AIM nominations in 2002 for the group's full-length album How's The Level? and a radio show of her own on the now-defunct WoWfm (hosting WowVibe).
After spending the latter part of the decade travelling the world, Mizz Nina returned to the scene ready to roll with the punches with a fresh sound and broader musical perspective. Her debut solo album What You Waiting For, released in July 2010, manifests Mizz Nina's cool confidence in her newfound vocation as a singer. Sung in English and Malay, the longplayer is a pleasure dome of beguiling beats, innovative melodies and top-notch production, and contains local and international collaborations from the likes of Uno and AJ of Pop Shuvit, Noh from Hujan, DJ Fuzz, Koko and Syaheed of Bedsty Music, Sakke from the Netherlands and Koolade from Croatia to MC Dandee from Bangkok's Thaitanium Entertainment, Mawar Berduri from Ahli Fiqir, Teeflii and Grammy nominee Planet Asia.
Pop Shuvit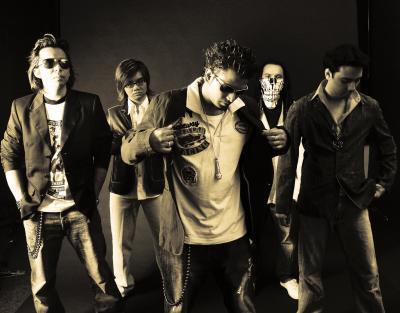 Pop Shuvit is a Malaysian independent rap-rock band. Comprising Moots! (vocals), JD (guitar), AJ (bass), Rudy (drums) and Uno (turntables), the band who got its name from a skateboarding trick of almost the same name began making waves in the local music scene in late 2001 and since then, has had 4 successful releases under their belt and gained a sizable fanbase in Asia notably in Malaysia, Japan, Thailand and Singapore. Known for their adrenaline-packed live shows and eclectic blend of hip hop and rock, Pop Shuvit are being touted as Asia's leading Hip Hop Rock band.
NAJWA
REZA SALLEH
SHAWN LEE BEATBOX
DENNIS LAU
Besides this, DJs will be pumping up the Red Carpet Avenue with unstoppable energy all night long!! and they are :-
AUROLOGY
HYPEEMBEATS & JEE HOE
DJ XU
And also apart from ALL of the performances which i've mentioned above, it will feature : -
3D Projection Countdown
- click
here
to have a sneak preview of what it is
Laserman
Aerialists
Contortionist
There will be 2 beautiful hosts too for this AWESOME event :-
JULIE WOON
MEGAN TAN
This will be the BIGGEST event on NYE, it's even on The Star newspaper.. click
here
for the read..
Have i got you all hyped out for it? well, come and join me and the MHB girls on the day itself! admission is FREE! yes, you heard me right.. F R E E
We'll be there waiting for you to come over to say 'Hi' to us :D
Move your cursor to
here
to have more info of this SUPERB event OR easier just type
https://www.facebook.com/encorpstrand
on your browser! :D
Themed "Tonight, Extraordinary Works Overtime," MYSTICAL EVE 2012 is bound to kick-start your new year in high gear.